The CDSUA Annual Business Meeting will be held Monday June 5, 2023 at 7:00PM at the Auditorium at Colonie Central High School (1 Raider Blvd. Albany, NY 12205).  In an attempt to maximize attendance, the meeting has been changed to a Monday since we traditionally have so many people that cannot attend on a Sunday night.  Our northern area umpires will have the opportunity to attend via livestream at Queensbury High School at the same time.  There is not an option for individuals to attend via livestream other than at the Queensbury High School setting.
Please remember the June Business Meeting is considered a mandatory meeting, so if you will not attend there is an expectation that you will submit a valid excuse (either to me or to our current chairperson, Peg Squazzo).  There are currently no provisions for absentee ballots and you may not send a designee for you relative to voting. 
This is an extremely important meeting for the organization as we will vote on constitutional amendments and for the office of chairperson.  Please make it a point to be in attendance this year due to the importance of the items on the ballot and to complete the financial portion of the meeting (paying 2023 scholastic assigning fees and paying 2024 CDSUA/NYSSO/USA dues, whichever apply to you).  For those new to the organization, we pay each June for the next season due to the registration process occurring over the Fall/Winter season prior to the start of our classroom sessions.
2024 dues are as follows:
NYSSO Only $75
USA Only $98
NYSSO and USA $125
If you are changing your registration status for 2024 (adding or dropping either the NYSSO or USA piece, please indicate that when paying for easier processing and recordkeeping on our end.  
About Our Organization
The Capital District Softball Umpires Association registers and trains softball umpires. We also provide officials and umpire assigning services to public high schools and colleges, as well as youth and adult leagues within our jurisdiction (the greater Albany, Saratoga. Glens Falls. Hudson, NY area). We are affiliated with NYSSO (NYS Softball Officials) and USA Softball. Subject to availability, we also provide officials for softball events sponsored by PONY and other sanctioning authorities.
Join the CAPITAL DISTRICT SOFTBALL UMPIRES
Are you interested in becoming a softball umpire? Please contact the officers listed below.
Do you have any teachers, coaches, former athletes(baseball/softball players) interested in becoming a softball umpire? Please forward them this information.
North (Queensbury -Lake George Area) – Contact: Steve McWhorter at 518-791-1284
Greater Capital District – Contact: Aileen Durrant at 518-248-6676 or Peg Squazzo at 518-573-4661
Southern (Catskill – Cairo Area) – Contact: Brian Skelly at 518-622-9264
Topics:
2023 Presidents Welcome Back Message
Proposed Amendments to Constitution
Instructions for Registering in Arbiter
Temporarily Disabled Player – New Rule 2023
High School Ejection Form – must be completed when an ejection occurs
NYSSO RULES INTERPRETATIONS – 04/09/2023
NYSSO RULES INTERPRETATIONS – 04/19/2023
Training
Umpire development is a result of classroom and field mechanics training. Due to the large area we service, classes are held in three locations. Officials are required to attend a minimum number of these sessions (as per our by-laws) as well as a mandatory season ending business meeting to remain in good standing. A list of meetings, classes and mechanic's sessions is now available (see Schedule).
Pictures from 2023 Mechanics Training: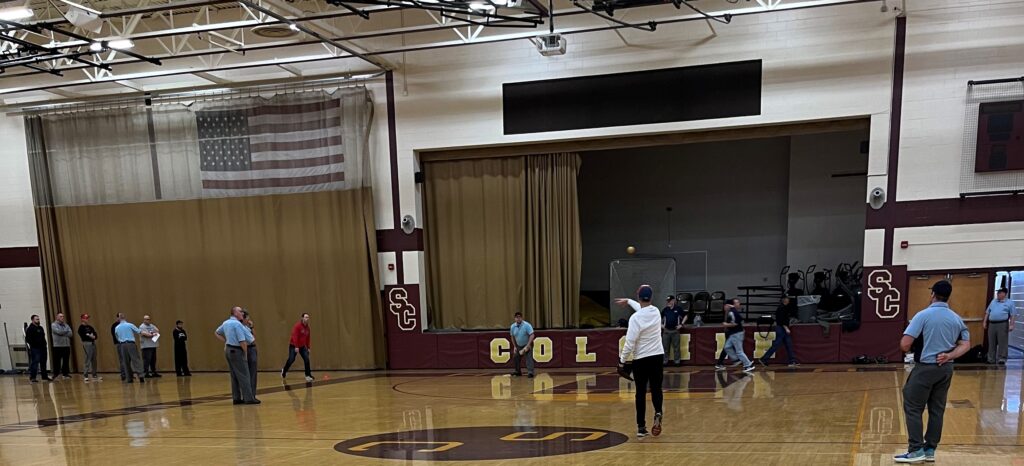 2023 USA SOFTBALL RULEBOOK Click Here
NYSSO TEST STUDY MATERIAL Click Here
CDSUA FACEBOOK PAGE Click Here